The 2021 Subaru Love Promise Customer and Community Commitment Award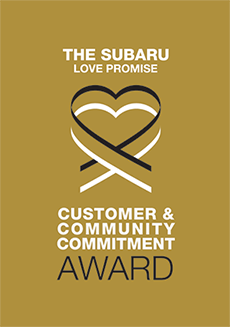 We've been nationally recognized for our dedication to our customers, our community, and the Subaru Love Promise.
We're honored to receive the 2021 Subaru Love Promise Customer and Community Commitment Award. This award nationally recognizes elite Subaru retailers who provide an exceptional customer experience at every interaction with Subaru. These retailers have also demonstrated an outstanding commitment to supporting passions and causes in their local communities in important areas such as the environment, community, health, education, and pets.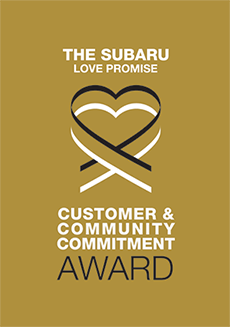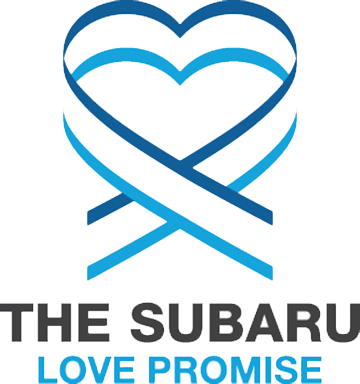 What is the Subaru Love Promise?
Subaru and our retailers believe in making the world a better place and the Subaru Love Promise is our vision of respecting all people. This is our commitment to show love and respect to our customers and to work to make a positive impact in the world.
How is Bowser Subaru dedicated locally to the Love Promise?
At Bowser Subaru, our Love Promise to the Pittsburgh area can be seen in our partnerships with local nonprofits and charities. We're grateful for the opportunity, not only to be a part of the Pittsburgh community, but to serve it as well.
Thomas Jefferson School District, West Mifflin School District
Greater Pittsburgh Community Food Bank, Vitalant
Leukemia & Lymphoma Society, Stanley M. Marks Research Fund
Love Promise Stories from Bowser Subaru
Subaru and Bowser Subaru believe in making a positive impact on the communities in which we live and work. We uphold that belief through our Love Promise Community Commitment. Every month, we select inspiring stories from customers and partners from around our area who strive to support our collective commitment and feature them here
Bowser Subaru Blood Drive - Tina C
Recruiting for summer blood drives is always a challenge. This year has been particularly challenging, with many people enjoying the relaxed COVID restrictions. While our sign ups have decreased, we have seen an increase in the demand. Many patients delayed necessary care during COVID and are now in need of more critical care, many requiring transfusions. Hospitals have also seen an increase in trauma patients, placing an increased demand on the already fragile blood supply. The amazing team at Bowser Subaru really stepped up to the plate this summer, allowing us to use their space for a blood drive. The staff were amazingly warm & welcome, helping The Red Cross collect 31 units. Many of the donors were first time donors to The Red Cross. This blood drive will have a huge impact on the community. Since every unit collected helps to save up to 31 lives, Bowser Subaru potentially helped 93 patients. I know that we have something special to build on and cannot wait for our next collaboration with Bowser Subaru.
---
Food Bank - McKeesport Food Distribution - Michelle M
On May 15, 2021, Bowser Subaru, along with other Subaru retailers, volunteered at Greater Pittsburgh Community Food Bank's drive-up food distribution in McKeesport. Their support of the Food Bank's mission and service allows us to provide access to healthy, nutritious food to families and individuals across Southwestern Pennsylvania. Drive-up distributions occur all over the greater Pittsburgh area and provide each family with 30 to 50 pounds of food. Every car the volunteers served represented one or more families from the McKeesport area who may rely on this monthly distribution for food support. Subaru helped serve 165 cars, who picked up 360 shares of food. In total, volunteers distributed 11,000 pounds of food. It is thanks to your efforts that we are able to continue to meet the need of individuals in McKeesport and surrounding areas who need food assistance.
---
Helping Domestic Violence Victims - Danielle G
Bowser Subaru teamed up with Center for Victims (CV) to provide blankets to the women and children staying in CV's emergency domestic violence shelter. Guests in shelter stay up to 30 days before transitioning to their new housing. While transitioning out of shelter, guests are now given one of these beautiful new blankets provided by Bowser Subaru. Something simple as a blanket not only keeps us warm throughout the cold Pittsburgh winters, but symbolizes a sense of security. Guests who may have left everything behind to start a violence-free life – can start with a new blanket to call their own, keeping them warm and comfortable. Thank you Bowser Subaru for providing warmth, comfort, and love.
---
Community Support for Youth Athletics - Bobbi G
Charleroi Youth Wrestling is a local youth organization that seeks to foster a love of wrestling in our community. Beyond the fundamentals of wrestling, it also instills a sense of discipline and dedication to the young boys and girls in our community. Because we are independent of the school district, we are self-funded and rely heavily on donations from local organizations, such as Bowser, as well as support from wrestling families. Without that support, both financial and volunteer efforts, we would not be able to continue as an organization. For the last two years, the Bowser organization has generously donated to our organization. Their donations, which were used as part of tournament raffles, enabled us to purchase new singlets for our wrestlers, host two home tournaments, as well as to expand our program thereby opening up the enrollment to more local children. Thank you to the Bowser family and organization for your continued support of youth athletics!
---
Blinded by Love - Penn - Katelynn J
Penn came to Wayward Whiskers in May 2020 after being found in a local neighborhood. He was brought to our organization by a kind police officer who wanted a better life for Penn. Upon arrival, it was clearly obvious, four week old, Penn was very sick with both a respiratory and eye infection, along with ringworm. Due to his age and illness, Penn required force feedings every 3-4 hours along with daily medications and biweekly baths for ringworm. It was a rough beginning, but with time, Penn was able to get stronger to overcome his medical obstacles. Eventually his ringworm cleared up and his eye and respiratory infections got better. Unfortunately though, Penn lost his vision due to severity of his eye infection. Although he may be blind, that doesn't stop him. He's now a happy, healthy kitten who loves to play and cause trouble. His new adopters report that they are beyond thrilled to have Penn apart of their family.
---
Bowser Subaru Helps Fund Critical Research - Heather K
The Stanley M. Marks Blood Cancer Research Fund has been a proud partner of Bowser Subaru for four years and during that time we have been honored to be a part of the Share the Love campaign. Funds raised and provided by Share the Love directly impact patients and cancer research scientists at UPMC Hillman Cancer Center and the network of nearly 80 UPMC Hillman Cancer Centers in western PA, southern NY, eastern Ohio and western Maryland. The Stanley M. Marks Blood Cancer Research Fund provides critical funding to support highly innovative research at UPMC Hillman Cancer Center, the only NCI-designated Comprehensive Cancer Center in western PA. The research scientists and oncology physicians are both located in the UPMC Hillman Cancer Center in Shadyside which allows for face-to-face collaboration on the latest treatments and clinical trials for patients we are treating. The generous support of Bowser Subaru has helped some of the young cancer research scientists receive funds for their studies. Without the science and their discoveries, we could not continue to develop new and effective therapies for patients will all types of cancer.
---
Bowser Subaru Team Lights the Night - Megan E
Employees from Bowser Subaru participate in the annual Leukemia Lymphoma Society Light the Night Walk. With employees from service, sales, administration and more; we came together to support not only members of our own team who are cancer survivors but all those in our area who have been impacted by these diseases. We are proud to help support an organization such as LLS as they strive to provide support, research and more to those in our area in the quest to end cancer.
---
Bowser Donations Help Hillman Cancer Patients - Breanna S
Bowser Subaru and The Leukemia & Lymphoma Society (LLS) recently teamed up for the fourth time to spread love, hope and warmth to cancer patients and their families at the UPMC Hillman Cancer Center. During the month of June, customers and employees at Bowser Subaru were invited to create "care cards" – whether heartfelt, handwritten notes or drawings of uplifting images like smiles, hearts, and superheroes – for cancer patients. On July 16, Bowser Subaru packed up these encouraging messages and delivered them along with 80 blankets and 30 arts and crafts kits to UPMC Hillman Cancer Center. Air-conditioned treatment facilities can feel incredibly cold to patients, so many hospitals rely on donations of blankets like these to keep their patients warm and comfortable. The arts and crafts kits are packed full of Crayola products, which will help children who accompany a loved one to treatment feel more at ease. One of the patients watches her granddaughter several days a week, and was so excited to receive a craft kit because she knew her granddaughter would love it. About a dozen patients received their blanket, craft kit, and care card that day, while the rest of the items will be distributed to additional patients in the days and weeks to come. Patients and staff alike greatly appreciated the donation. Dr. Stanley Marks, Chairman of the UPMC Hillman Cancer Center and a past president of our LLS chapter, and UPMC Hillman COO Stephanie Dutton made time out of their busy schedules to personally thank Megan Erny from Bowser Subaru. LLS is grateful to Bowser Subaru's management, staff and customers for giving their time and resources so generously to cancer patients at UPMC Hillman Cancer Center, and throughout the Pittsburgh community. Thank you for supporting our mission to cure blood cancers and to improve the lives of patients and their families.
---
Merakey Allegheny Valley School Donation - Merakay Allegheny Valley S
Bowser Subaru in conjunction with the Pittsburgh area Subaru retailers and Subaru of America a $1,000 donation was presented to the Merakey Allegheny Valley School in Coraopolis, PAThe donation was presented to Dorothy Hunter Gordon, Executive Director for the School during the Pittsburgh Vintage Grand Prix Association's sponsorship night. Dorothy said she is pleased to have Bowser Subaru and the Pittsburgh area retailers, and Subaru of America partner with the school. Merakey Allegheny Valley School (Merakey AVS) is a non-profit organization which provides homes and a full range of services to individuals with all levels of intellectual and developmental disabilities (IDD). The majority of the more than 800 individuals in our care are diagnosed with severe or profound IDD. In addition, most of the people we serve have multiple physical disabilities, extensive medical complications and may require supports for challenging behaviors. Merakey AVS operates facilities in nine Pennsylvania counties: Allegheny, Beaver, Bucks, Butler, Dauphin, Lebanon, Mercer, Montgomery, and Philadelphia.
---
Kittens rescued from the cold - Shawn E
Three kittens were found in a vehicle at Bowser Subaru trying to stay warm. With it being late October and temperatures getting close to freezing, the vehicle seemed like an obvious choice. Employees at Bowser Subaru found them and brought them inside. Another employee, being a cat owner themselves, went home and brought back a large crate, food, litter and litter box, toys and bedding for the tiny kittens. A nice home was set up inside one of the offices in the Bowser Subaru service department. Very quickly two of the kittens were adopted by employees at Bowser. One is still without a home, but the staff posted some photos on Facebook and this lone kitten should have a home soon. Not many people would go to such efforts to rescue some stray kittens. They would most likely call a shelter to deal with them. The efforts of the employees at Bowser show that they would go above beyond.
---
Bowser Subaru's 3-Peat for Cancer Patients - Breanna S
The Leukemia & Lymphoma Society (LLS) was honored when Bowser Subaru selected us as a partner for their inspiring "Subaru Loves to Care" summer program for the third year in a row. Representatives from the dealership arrived at UPMC Hillman Cancer Center on July 18th with a goal of making an immediate, tangible impact for patients undergoing treatment. One unpleasant side effect of chemotherapy is that some patients constantly feel cold. To make their treatment more comfortable, Bowser donated 80 cozy new blankets in Subaru's signature blue. In addition, the dealership gifted 25 arts and crafts kits filled with Crayola products meant for any children receiving treatment or who accompany their parents or family members to appointments. The group from UPMC Hillman accepting this donation on behalf of their patients included Anastasios Raptis, MD; Susan Gibson, Senior Director, UPMC Hillman Cancer Center; and James Rossetti, DO. Dr. Rossetti also sits on the LLS Board of Directors as a Medical Advisor. The UPMC Hillman and Bowser teams enjoyed chatting with each other during the drop-off. One of the UPMC Hillman representatives was telling the Bowser crew how much he loves Subarus; he already owns three, but still has his eye on one of the newest models. LLS sends a huge "thank you" to everyone at Bowser Subaru who made this donation possible, including Gary and Barbara Bowser, Bowser Subaru owners and members of the LLS Board of Directors. Thanks also to Megan Erney and Devyn Moon for taking time out of their day to deliver the donation. LLS is extremely thankful to have the Bowser family and Bowser Subaru as long-standing partners in our mission to find cures for leukemia, lymphoma, Hodgkin's disease, and myeloma, and to improve the lives of blood cancer patients and their families. Pictured (L-R): Dr. Raptis, Angela Austin (LLS Patient Access Manager), Susan Gibson, Dr. Rossetti, Megan Erney, and Devyn Moon.
---
Bowser Brings Hope, Warmth to Cancer Patients - Breanna S
Patients at UPMC Hillman Cancer Center on June 21 were overjoyed to receive a surprise courtesy of Bowser Subaru. The dealership distributed 80 blankets and 10 arts and crafts kits, as well as uplifting care card messages and Subaru/LLS co-branded bracelets. Bowser Subaru staff members Megan Erney (Advertising & Public Relations Manager) and Eric Radakovich (Subaru Star Delivery Specialist) worked with UPMC Hillman Cancer Center volunteers to "share the love" with patients in both the clinic and treatment areas. Hospital staffers were surprised and delighted to receive arts and crafts kits just in time for summer break. Many parents have to bring their children to treatment with them while school is out, and the Crayola products will be perfect to help kids pass the time while they wait for mom or dad to see the doctor. We were honored that Dr. Stanley M. Marks, Chairman of the UPMC Hillman Cancer Center and a past president of our chapter, took a few minutes of his valuable time to thank the Bowser Subaru team for their contribution. Bowser Subaru and the entire Bowser family deserve recognition for their continuing partnership with the Western PA & WV chapter of LLS, and have our gratitude for bringing hope and warmth to cancer patients and their families.
---
Subaru and NWF Love the Earth! - Christopher V
We have incorporated our Wildlife Habitat into our outdoor learning environment.
---
Jefferson Hills Elementary Outdoor Classroom - Jefferson E
As part of the Subaru Loves the Earth program for 2017, Bowser Subaru donated items to Jefferson Elementary School to help the create a Certified Wildlife Habitat as part of their outdoor classroom. The items donated such as birdhouses and feeders, bird bath, organic soil, gardening tools and more have assisted in enriching the already growing outdoor classroom. The school and students are grateful for Bowser Subaru and Subaru of America's support of the National Wildlife Federation's Certified Wildlife Habitat initiative - a hands-on way in which students, teachers, parents and administrators can make a difference in helping to restore native habitats, on garden (or school yard) at a time.
---
Warm Thoughts and a Blanket to Match - Judi S
Thank you Bowser Subaru!...I was receiving my weekly chemotherapy at Hillman Cancer Center when a very nice lady came into my room and presented me with a blanket that had a very nice card expressing "warm thoughts" from your company. How very touching and much appreciated. Fighting cancer is hard, but knowing there are people out there such as yourselves cheering us on makes things a little less difficult.
---
Bowser Subaru Annual Blood Drive - Megan E
Each year, Bowser Subaru holds a blood drive. This year we partnered with the Central Blood Bank to help those in our community in need. This year we collected 27 units of blood which equates to 81 patients! Thank you to all of our employees and customers who donated this year.
---
Bowser Subaru Loves Learning - Megan E
As part of the Subaru Loves Learning Book Donation event, Bowser Subaru partnered with West Jefferson Elementary School to provide 200 books for kids in grades K-3. This program was designed to donate outstanding, prize-winning books to schools with the goal of engaging young learners in the world of science and inspire them to want to learn more. The books are on display and made available to students in the schools library so they can enjoy them even outside of the classroom.
---
Subaru Loves Learning Book Drive August 1 - 31 - Danielle S
Join us in our Subaru Loves Learning initiative during the month of August! We are partnering with the American Association for the Advancement of Science (AAAS) in donating science books to Jefferson Elementary in the West Jefferson Hills School District. All of the books that will be donated have been recognized by AAAS as some of the best science books in their field. Contact us to learn more information.
---
Bowser Subaru Blood Drive - Central B
Each year the team at Bowser Subaru holds a blood drive with the Central Blood Bank. This year our drive held on July 13th collected 35 units of blood from employees and customers who participated. This translates to the support of 105 local patients in our area.
---
Subaru Loves the Earth - E-Waste Event - Danielle S
We would like to thank our customers for participating in our E Waste Recycling event during the month of April. With your help, we were able to prevent 8,568 lbs of carbon emissions from polluting the atmosphere. This is equivalent to saving 329 trees, 1,457 gallons of gasoline, 12,422 plastic bottles, and 57,135 aluminum cans. Thank you for helping strengthen the Subaru Love Promise!
---
Helping our local Community - City M
Recently, The City Mission in Washington, PA suffered a fire that destroyed its kitchen. Though no one was harmed, the Mission serves three meals a day, 365 days a year. Bowser Subaru began holding a food drive this June to help collect canned and boxed food items to assist the Mission in replenishing its supplies. If you would like to donate, you can bring items to our showroom or for other ways to donate go to www.citymission.org.
---
Bowser Subaru works towards paperless business - Garrett J
At Bowser Subaru, we are committed to improving our community and that includes our environment. Paper consumption can reach extremely high levels within business and one way we are working to cut down on our paper usage is by partnering with Pocket Expert to provide our employees with the ability to send electronic business cards. Pocket Expert is an app that our sales staff can use from their computer or smart phone and send their contact information electronically to customers. This way we can stay in contact with our customers and work towards removing the need for paper business cards within our organization. Though it's a small change we believe it will make a big impact not only for us but for our customers as well.
---
BOWSER SUBARU SHARE THE LOVE - Leukemia & Lymphoma - Terry K
Bowser Subaru presented a check courtesy of Subaru for $14,848 to the Leukemia and Lymphoma Society of Western Pennsylvania and West Virginia on Tuesday, March 31, 2015. The money was raised during Subaru's annual Share The Love event in which Subaru donates $250 for each new Subaru purchased. Subaru owners can select from five charities that benefit our local community, including Bowser Subaru's hometown charity, the local office of the Leukemia and Lymphoma Society. Bowser Subaru would like to thank all of our customers and community members who helped make this donation possible. Photographed here are: Mr. Gary K. Bowser and Jeanne Caliguiri, Development Director of the Leukemia and Lymphoma Society, WPA WV Chapter.
---
April 1-30, 2015 E-Waste Recycling Event - Molly M
Throughout the month of April, we are hosting an E-Waste Recycling Event in our store to collect unwanted electronics. We've arranged to work with a company who will responsibly collect, re-purpose, and recycle your electronic waste. Help us protect our environment. Just show up with your E-Waste and we'll do the rest! The first 50 customers who contribute will receive a complimentary environmental badge of ownership. We will accept: LCD Monitors, Cell Phones, Laptops, Tablets, CRTs up to 40", Video Games/Consoles, Fax Machines, DVD/VCR Players, Printers, Computer Peripherals, Switches/Routers, Cords and Wires.
---
Bowser Subaru Employee Goes Above and Beyond - DMORT R
DISASTER MORTUARY OPERATIONAL RESPONSE TEAM: Bowser Subaru is proud of Subaru Service Manager Nick Edwards - a member of the DISASTER MORTUARY OPERATIONAL RESPONSE TEAM - Region 3 "Caretakers of Heroes."
---