Parts Center Subaru Parts Center - Greater Pittsburgh

---
Genuine Automotive Parts In Pleasant Hills, PA
Even if you keep a strict service and maintenance routine for your vehicle, over time wear and tear is inevitable and normal. Your vehicle will eventually need certain parts replaced, and that's where Bowser Subaru comes in.
Our dealership is located in Pleasant Hills, PA and we offer area drivers the advantage of our onsite parts center when the time comes for a new automotive part.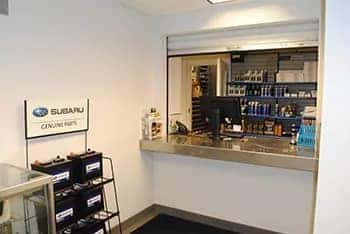 Certified Subaru Parts Versus Alternative Options
Why should you opt for a certified part versus a less expensive option? There are a few solid reasons. Firstly, our certified parts come straight from the manufacturer, so you can rest easy knowing your vehicle is receiving a part that it was originally engineered to function with. Another great reason to choose a certified part is durability. Genuine parts are higher in quality and will likely not fail as soon as a cheaper part might. Another key reason to select certified automotive parts is safety. Because your vehicle is receiving a part that it was designed to operate with, you'll drive with more confidence and the chances of a part failing while you're on the road is lower.
Our Certified Car Parts & Accessories
We want to ensure that our customers' vehicles always receive the parts they need when the time calls for it. We have many automotive parts in stock and ready for you to purchase, however, if we don't have a particular part ready to go, we'll order it for you and make sure it arrives in a timely manner. We want to make sure your vehicle gets the quality products it needs in order to run as smoothly as possible.
Installation
We know that some of our customers around Clairton, West Mifflin and beyond prefer to take things into their own hands. If you choose to order a certified part or car accessory through us, you've got the choice to either install it yourself or let our certified technicians take on the task. Whichever option you choose, you're still receiving the highest quality product on the market. If you do decide you'd like some assistance, you can easily schedule an appointment with our service team right away. We can discuss the part or parts you need and get your vehicle into our service center immediately so that we can get started on the installation process and get your vehicle back to you in a timely manner.
If your vehicle is due for a new part or you've had your eye on a particular accessory, make the wise choice and select a certified part from our parts center. You can easily order any part you need right here on our website, but if you need some help choosing the right one, you'd like some guidance or you have any questions you can give our team a call at (888) 434-1725. We'll happily chat with you about any part or accessory you're interested in and check on availability as well.
We look forward to providing drivers in Elizabeth and South Park, PA with the quality parts your vehicle needs in order to deliver a gratifying, safe and smooth driving experience for you and your passengers for years to come.
Mon - Tue, Thu

9:00 AM - 9:00 PM




Wed, Fri

9:00 AM - 6:00 PM




Sat

9:00 AM - 5:00 PM




Sun

Closed
Mon, Wed, Fri

7:00 AM - 6:00 PM




Tue, Thu

7:00 AM - 8:00 PM




Sat

8:00 AM - 5:00 PM




Sun

Closed
Mon, Wed, Fri

8:00 AM - 4:30 PM




Tue, Thu

8:00 AM - 8:00 PM




Sat

8:00 AM - 5:00 PM




Sun

Closed