Bowser Subaru Ownership Experience | Subaru Delivery Specialist: Eric Radakovich

Subaru Home Delivery in South Pittsburgh, PA
One of the many ways we go above and beyond providing drivers with standout customer service is by having all your options covered. If you're looking to buy or lease a new Subaru you can do so from the comforts of your home using all our online tools with our Shop from Home resources at our dealership. You can find the right option, get a financing plan and arrange to have it picked up or you're able have it delivered. We have a Subaru home delivery service for those in Pittsburgh as we can bring your next new purchase right to you!
Set Up Home Delivery of Your New Subaru
You can have your home delivery set up with ease. All you need to do is contact us and let us know that's the option you'd like to take whether you've fully shopped from home, or have been by our dealership before and want us to deliver it after everything is squared away. We have a dedicated delivery specialist who can bring your next new Subaru right to your driveway. When our delivery specialist arrives, they'll be able to provide you with a personalized walkthrough of your new Subaru. This includes how to utilize features like Subaru EyeSight which is able to brake and keep you safe with its driver assistance features, or Subaru STARLINK® which is your infotainment suite plus the MySubaru App, which allows you to connect with your vehicle on the go as you can start your car remotely, adjust climate control and more!
It's not just a car. It's a Subaru. Our Subaru Delivery Specialist ensures you get the most out of your Subaru ownership experience.
Here at Bowser Subaru, it is our mission and our passion to help our customers find and drive home in the vehicle of their dreams. From the moment you step foot onto our dealership, we are committed to providing you with the most enjoyable and carefree vehicle shopping experience possible, including finding the vehicle that's going to best suit your needs, financing that vehicle, and now with the help of our delivery specialist, helping you to understand all of the different tech functions and capabilities that your vehicle has to offer as well! Our delivery specialist, Eric Radakovich, is here to assist you in understanding and utilizing every function or your new Subaru vehicle, so you can take full advantage of all the many different features and capabilities that your vehicle has to offer and enjoy it to its fullest potential every time you get behind the wheel!
- Execute a Pre-Delivery Review, which will ensure your Subaru is ready for you when it's time for you to drive it off the lot.
Ensure Your Satisfaction by contacting you about your experience and assisting with ever mile of your Subaru Ownership Experience.
- Introduce you to the Bowser Subaru Family, including our award winning Service Department and Parts Department by completing a tour of the dealership and giving you an introduction to our service writer.
- Provide Informative Demo of Subaru EyeSight, which will highlight the advantages of Subaru's driver assist technology.
- Review Subaru Technology such as STARLINK, Subaru EyeSight, and Infotainment systems so you can get the most from your vehicle.
- Serve as your Dealership Point of Contact for all your Subaru questions, with appointments available Monday, Tuesday, & Thursday between 12:30 p.m. and 9 p.m. or Wednesday and Friday between 9 a.m. and 5 p.m. and Saturday by appointment only.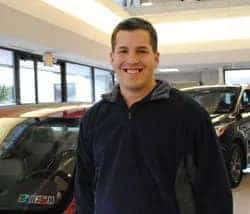 Eric Radakovich Bowser
Subaru Delivery Specialist
Call Eric at 412-469-2100 Extension 1551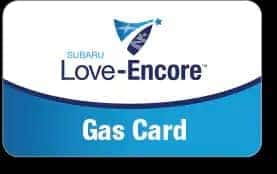 Schedule your Love-Encore delivery, and receive a Complimentary Gas Card.
Have Your New Subaru Delivered to Home from Bowser Subaru
Think of Eric, our delivery specialist, as your chauffeur into the world of your new Subaru vehicle and everything we have to offer at Bowser Subaru.Once you've decided on the Subaru model that's going to best fit your needs, our delivery specialist will perform a pre-delivery check to ensure that your vehicle is ready for you to drive it home! Using all our online tools to browse, secure financing and have your new Subaru delivered to you is just one of the many ways we go above and beyond for those in the Pittsburgh area here in our Pleasant Hills, PA showroom. To find out if you're in our service area and are eligible for vehicle delivery, contact us today and we'd be happy to get started with you soon!
Even if you're coming in to visit our dealership to buy your Subaru, our delivery specialist will provide you with all the information that you need in order to enjoy all of the wonderful technology that's included in many new Subaru models, including the Starlink multimedia system, Eyesight Driver Assist Technology, Homelink, date and time settings, digital information cluster, and much more so you can know your vehicle front and back and take advantage of everything it has to offer! Eric will also introduce you to our service center and provide you with some insight into the latest technology and genuine Subaru parts they use when servicing or maintaining Subaru vehicles, so when it's time for your vehicle to be serviced many miles down the road, you'll know that you can trust the expertly trained technicians here.
Subaru EyeSight Overview Video Tutorial:
EyeSight Drive Assist Technology watches for danger ahead to help avoid an accident.
Subaru STARLINK Features Overview Including Apple Car Play and Android Auto Video Tutorial:
Get connected with SUBARU STARLINK Multimedia featuring standard Apple CarPlay, Android Auto and Pandora integration. Working with your iPhone or Android device, it offers wireless pairing and hands-free smartphone operation for safe and easy access to news, music, podcasts, and more. It can also read and display your incoming texts, allowing you to keep your eyes on the road.
Subaru DriverFocus Technology Video Tutorial:
As an industry leader in safety, Subaru developed the DriverFocus Distraction Mitigation System, one of the first safety technologies of its kind.
My Subaru Remote Engine Start with Climate Control Video Tutorials:
With the new SUBARU STARLINK Remote Engine Start with Climate Control feature, you can start your Subaru and set the perfect temperature from your smartphone before you hit the road. Shown here on the all-new 2019 Subaru Forester, Remote Engine Start with Climate Control is easily accessed via the MySubaru app from any location. .
STARLINK Safety and Security Video Tutorials:
Take a look at the newest ways SUBARU STARLINK Safety and Security can bring peace of mind, comfort and convenience to your drive.